Alkaline vs Acidic Foods

All diseases thrive in "acidic" systems, that is just a fact
of the medical profession plain and simple.  Now, what are
you going to do about it?  Wait till you get sick then act
on the information below?  The decision is up to you.

YOU WANT YOUR SYSTEM TO BE IN AN ALKALINE STATE !!!

I check my ph level on a daily basis.  It's easy to do. All
you need to do is obtain a roll of PH Testing tape which 
looks like the image below.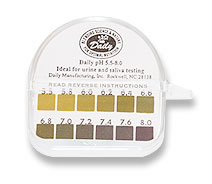 Click on the tape for info

Basically the color of the chart represents the color of the tape after testing.  
If your eating alot of the food that is on the YELLOW side of the chart, your 
urine will not even change the color of the tape -- if your eating good foods, 
like the examples on the GREEN side of the chart your urine test will turn the 
paper tape a dark green which is where you want your system to be on a daily basis.